HOW TO PROTECT YOUR RETIREMENT SAVINGS FROM FRAUD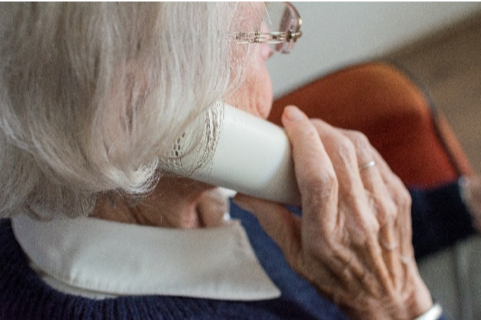 Don't fall for a cold call
Following on from our previous post 'Spot Fraud to Stop Fraud', we're continuing with this article about Pension scams.
At Markland Hill Wealth, our priority is to keep your money safe and help you feel protected and reassured during these uncertain and turbulent times. Once you've handed your money over to fraudsters, there is often little chance of getting it back.
There are a few simple things you can do to help keep you and your loved ones from falling for a scam.
1. DON'T FALL FOR A COLD CALL
IF YOU GET CONTACTED OUT OF THE BLUE ASKING FOR DETAILS OF YOUR PENSION, YOU SHOULD BE ON GUARD STRAIGHT AWAY.
Even if they say they're calling from an official government body like The Money and Pensions Service (formerly the Money Advice Service) or Pension Wise, if it's unsolicited, it's likely to be a scam. Pension Providers never cold call, email or text to ask for your account details (like your user ID and password), tell us your PIN code, CVV number or to move money to another account. Always take steps to verify the identity of a caller. Never take their word. Hang up and call back on a trusted number, from a different device if possible. A genuine company will never have any problem with you doing this.
2.IF IT SOUNDS TOO GOOD TO BE TRUE, IT PROBABLY IS
BE ON THE LOOKOUT FOR 'DEALS' THAT PROMISE HIGH RETURNS.
If they're saying it's a 'limited time offer' or a 'loophole', the reality is that these kinds of opportunities are unlikely to be genuine. Likewise, if a caller is offering you something out of the ordinary, like the opportunity to access your pension before the age of 55, you should think twice about whether it's genuine or not.
3.ARE THERE ANY STRANGE ASKS?
THINK CAREFULLY ABOUT WHAT YOU'RE BEING ASKED TO DO.
If they're asking you to invest in something unusual or something you've never heard of, it could be a scam. Fraudsters might claim that you need to invest in these additional assets to help you grow your pension pot. Although some specialised investments can be helpful, nothing is ever a requirement when it comes to growing your pension, so be overly cautious and avoid making any decisions on the spot.
4.ARE THEY ASKING FOR MONEY?
A BIG RED FLAG TO WATCH OUT FOR IS ANYONE ASKING YOU TO WITHDRAW MONEY URGENTLY FROM YOUR PENSION OR BANK ACCOUNT FOR AN INVESTMENT OPPORTUNITY.
Especially in these uncertain times when there's a lot of talk around making new investments, the risk of scams is heightened. You should never be forced to withdraw funds to invest in a different investment opportunity/structure so be wary. There's also a risk of tax penalties if you withdraw money from your pension early. Anyone who says you must withdraw funds from your pension to invest with them may be trying to scam you.
5.NEVER RUSH IN
YOUR PENSION IS AN IMPORTANT INVESTMENT, SO DON'T RUSH INTO ANYTHING THAT MIGHT PUT IT AT RISK.
No one should be put under pressure to make a quick or immediate decision and commit on the spot. It's important to take the time to think, looking only to registered experts to help you make the right decisions for your pension. Fraudsters will usually tell you that the offer is only available for a short period of time in order to pressurise you into a commitment.
6.DO YOUR HOMEWORK
DOING YOUR DUE DILIGENCE IS ESSENTIAL AND CAN BE AS SIMPLE AS INTERNET SEARCHING THE NAME OR COMPANY OF THE PERSON CONTACTING YOU. IF YOU CAN'T FIND THEM ONLINE OR SOMETHING DOESN'T FEEL RIGHT, IT COULD BE A SCAM.
There is a wealth of resources on hand. If you're unsure if something is genuine, then searching the name of the individual or company contacting you on the Financial Conduct Authority (FCA) register is a good way to ascertain if they're genuine. If you can't find them, be aware that it could be a scam. Likewise, Government regulated bodies such as Pension Wise, the Pensions Advisory Service or the Money and Pensions Service are great places to go for guidance on your pension, and can help you make an informed decision on protecting your pension pot.
From simply taking a step back and thinking twice about doing your own research, there are small ways we are all able to guard ourselves against scams, ensuring that our investments are protected for years to come.
If you suspect that you have been the victim of a scam you should contact the Action Fraud team on 0300 123 2040.
For straightforward, impartial advice contact our team at Markland Hill Wealth by emailing us at info@marklandhillwealth.co.uk with the heading 'Suspected Fraud'.
Author: Scottish Widows
Scottish Widows have produced a short film on avoiding pension scams and you can watch that by clicking the link here. https://bit.ly/2NHQlNS
Markland Hill Wealth is a trading style of UK Investment Solutions Ltd (no 09305214). UK Investment Solutions Ltd is authorised and regulated by the Financial Conduct Authority (reference 830162). Any marketing material, including our website, is for information purposes only and cannot be relied upon as constituting financial advice.