WHY USE A MORTGAGE ADVISER
We're not restricted to any particular providers, and will act solely in your best interests. You can therefore be confident that the mortgage we recommend will be the best available for your circumstances.

Minimise the stress
Our advice is always centred on the needs of our clients. We know what our clients want because we've been clients ourselves. With a mortgage market as competitive as the UK's, there are over 8,000 products available, it is as important as ever to seek advice from an expert.
With lenders becoming more innovative with their products, the market can be confusing to even the most financially aware.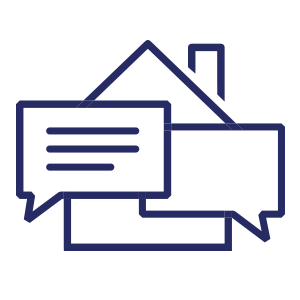 Clear relevant communication from start to finish
We will keep you updated through all stages of your application from Agreement in Principle, valuation, offer and completion.
We will give you one point of contact from start to finish. Markland Hill Wealth's initial questionnaire is designed to capture the main relevant information needed. This will give us a quick answer on the first stage of any Mortgage Application.

All your financial planning in one place
Markland Hill Wealth is a firm of Independent Mortgage and Financial Advisers so we can look at your entire circumstances and advise you about how to manage and protect your money. We don't just look at your mortgage, we can look at all your financial requirements.
We have a team of Financial Planning experts in all fields for customers with more complex needs including Pensions, Investments, Personal and Business Protection, Inheritance Tax Planning.
The right mortgage for you
Our aim is to find you the mortgage that is most suitable to your needs, circumstances, and preferences. Buying or re-mortgaging a property can be a huge decision. It is essential that you receive the most appropriate advice from start to finish.
At Markland Hill Wealth we are independent which means we're not tied to a limited panel of lenders and have access to the 'whole of the market' to get you the most appropriate mortgage product for your circumstances. As well as having access to all the High Street Lenders, we also have access to Broker exclusives with the High Street Banks and Specialist Lenders that you cannot access directly.
We offer the following:
New Purchases & Re-mortgages
First Time Buyers
Second-Charge Mortgages
Buy-to-let (BTL) Mortgages
Limited company BTL Mortgages
Mortgages for Self-employed (minimum one year's accounts)
Adverse Credit Mortgages including CCJs, Defaults, Secured Missed Payments,
Satisfied Bankruptcy Orders and IVAs (T&Cs apply)
Help-to-Buy Mortgages
Shared Ownership Mortgages
Gifted Deposit and Family Assisted Mortgages
Lifetime Mortgages
Bridging Loans
Using an Adviser can make all the difference
Using our in-depth knowledge of current lender criteria allows us to match your specific circumstances with the most suitable lender.
You may have had a mortgage application declined in the past for various reasons. However, there are now a growing number of specialist lenders offering mortgage finance, meaning we have more options when it comes to helping those with more complicated borrowing scenarios. So, if you have been declined in the past it does not necessarily mean that we cannot obtain finance for you now.
Essentially, a green mortgage is meant to increase the appeal of owning a green property. On top of the savings you'll make on your energy bills each month, the idea is that lenders give you a better interest rate when you take out a green mortgage on an energy-efficient property.
While you'd have been hard-pressed five years ago to find a single mainstream lender willing to give you preferential treatment on the basis of an energy performance certificate (EPC), there's now a range of high-street lenders that claim to do just that via their own versions of a green mortgage.
Green mortgages generally fall into two categories
Those that reward you for living in an energy-efficient home. Here, if the property you're buying or living in has an EPC rating of A to C, you'll get a better interest rate on your mortgage. This type of green mortgage is available to homebuyers and, in some cases, Remortgages.
Those that reward you for carrying out 'green' home improvements. Green improvements could include replacing single-glazed windows, upgrading your heating system, or installing solar panels, for example. Typically, lenders will offer you a discounted interest rate on any money you borrow to upgrade your home's energy efficiency.
Lenders are willing to offer incentives of this nature because they increasingly see energy-efficient properties – in this era of combating climate change – as less risky purchases and more likely to hold their value. Plus, if a homeowner is spending less on their energy bills each month, there's less of a chance they'll struggle to meet their mortgage repayments.
Our team of experts will help you get a personalised indication of how much you could borrow and compare mortgage rates to find out what the saving could be with a green mortgage.
HOW MUCH CAN I BORROW FOR A MORTGAGE?
Your mortgage lender will look at your affordability and decide how much you can borrow. It'll base this decision on:
Your salary. Or a combination of your salaries if you're applying for a joint mortgage
Any additional income you have, like bonuses or tax credits
The size of your deposit. You'll usually need at least 5%-10% of the total loan value
Any financial outgoings you have – bills, credit cards or insurance payments
Your credit history. A good credit history of meeting repayments will give you access to better deals
Adverse credit
We understand unexpected life events and financial mistakes happen that could impact your credit history. If you're looking for a lender with the expertise to make sensible lending decisions, don't worry, we've already found them, look no further.
Second-charge mortgages
A second mortgage, also known as a second-charge mortgage, is a secured loan which uses the borrower's home as security.
Family Assisted Mortgages
Family members can help by providing security in one or a combination of three different ways;
The family can put their savings in a security account, which earns them interest too.
The family can provide a charge over some of the value in their property, so there's no need for them to use their savings.
This involves the family placing their savings in an offset account at the start of the mortgage.
Government Incentive schemes
Over the years, the Government has introduced a number of incentive schemes to help first-time buyers get on the housing ladder, a Help-to-Buy Mortgage is an example of that.
Self-employed Mortgages
If you're self-employed and looking for a mortgage, you will, in theory, have access to the same range of mortgages as everybody else and you'll need to pass the lender's affordability tests in the same way as any other borrower.
A Buy-to-Let mortgage is a mortgage sold specifically to people who buy property as an investment, rather than as a place to live. If you plan to rent out a new property, most lenders will prefer you not to finance your purchase with a standard residential mortgage.
Buy-to-Let mortgages are a way for existing investors and new landlords to take their first steps into the rental property market.
Buy-to-Let Green Mortgages
Offering an energy-efficient property with top green credentials is becoming not just an added bonus but a necessity for many in the Buy-to-Let industry.
Growing numbers of lenders have begun offering green mortgages and these are becoming more mainstream. These products offer favourable rates or terms to borrowers with top EPC ratings.
Limited company BTL Mortgages
A Buy-to-Let mortgage for a limited company is a specialist type of mortgage for landlords who want to buy a property through a company.
These companies are specifically structured to buy, sell or let property and are known as a special purpose vehicle (SPV).
A lifetime mortgage is a form of equity release that allows homeowners to borrow money against the value of their home while retaining 100% ownership of the property. You can receive the money as a lump sum or in monthly instalments.
When you die or enter long-term care, the house is sold and the proceeds used to repay the loan plus any accrued interest.
There are two different types of lifetime mortgages.
1. Interest roll-up mortgage
Here, you get a lump sum or regular amounts and then get charged interest, which is added to the loan. You won't have to pay back a penny until the end of the loan term, for example, when you die or move into long-term care.
2. Retirement Interest Only Mortgage
With this type of lifetime mortgage, you get a lump sum and then you pay back the interest or even some of the loan on a monthly or ad hoc basis. This reduces or eliminates the impact of interest compounding.
Our specialist advisers take the time to thoroughly understand your circumstances
A bridging loan is a short-term loan, usually taken out for no more than 12 to 18 months. They are designed to help people 'bridge' a financial gap.
Examples are:
• Auction
• Bridge-to-Let
• Refurbishment Bridge
• Residential Bridging
For further details on how bridging finance works or if you would like to discuss a specific purchase, please contact us and one of our specialist advisers will be more than happy to discuss your requirements in more detail.
Plan well for your future.
Contact us for an appointment
It Only Takes a Few Minutes to Get Started
Your home may be repossessed if you do not keep up repayments on your loan.
Think carefully before securing other debts against your home. Your home may be repossessed if you do not keep up your repayments on your mortgage or any other debt secured on it. If you are thinking of consolidating existing borrowing you should be aware that you may be extending the terms of the debt and increasing the total amount you repay.